Admission Policies
All sessions, meetings and activities will be held at the Kyoto International Conference Center unless otherwise noted. Nametags are required to gain access to the scientific sessions and the exhibition. A proper ticket or a nametag must be presented to gain access to the Congress Dinner on Tuesday, September 26 at the Prince Hall and the Gold Room in the Grand Prince Hotel Kyoto, Roundtable discussion-Meet the Expert- in the mornings on September 25-27 and Post-congress Meeting on Thursday, September28.
Registration Desk
Location: Entrance Lobby, Kyoto International Conference Center
Registration Desk will be open during the following hours:
| | |
| --- | --- |
| Sunday, September 24 | 10:00-18:00 |
| Monday, September 25 | 7:00-17:00 |
| Tuesday, September 26 | 7:00-17:00 |
| Wednesday, September 27 | 7:00-17:00 |
| Thursday, September 28 | 8:00-16:00 |
Pre-registered participants
Your nametag, ticket and receipt will be issued at the Pre-registered desk.
Please bring your QR code sheet sent from registration office by e-mail on September 15.
For On-site registration
Please come to On-site registration desk.
PC Center (Speaker Ready Room)
In order to efficiently organize all the presentations during the conference and make sure that all presentations are issued to the correct room at the conference venue, we have a PC Center (Speaker Ready Room) during the IATDMCT 2017. It is mandatory to check-in at  the PC Center for your presentation during this conference. The PC Center is located in the Room 104-B, 1st floor of the Kyoto International Conference Center.
Lunch
Lunches are distributed in exchange for Lunch tickets, from 12:00 through 13:30 on each day in Annex Hall where Exhibition and Poster Presentations take place.
Please ask the staffs for vegetalian or Muslim-friendly lunch boxes.
IATDMCT 2017 Mobile App / Web System to View the Congress Program and Abstracts
The IATDMCT 2017 Mobile App allows you instant access to all sessions, presentations, posters, abstracts, exhibitors, maps, participants and social media.
* Password to view abstracts and participant information is provided for the congress participants only.
| | | |
| --- | --- | --- |
| iOS (iPhone/iPad) | | Android |
| | | |

You can also download the app by searching for "IATDMCT 2017".
Or scan the QR-code on the right to get easy access  to download the app.

Same contents are available on the web system as well.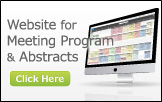 Social Media

Tweet @IATDMCT about the scientific program, social events and everything you'd like to tell us.
#IATDMCT2017 now trending

Share your feedback and photos on IATDMCT Kyoto with your colleagues and peers.

Join IATDMCT Group on LinkedInInitiate discussions on the meetings and Hot Topics!

Visit and check new topics on IATDMCT Blog.
Daily COMPASS
Daily bulletin of internet magazine, "COMPASS"  is issued on September 25, 26 and 27. Access and get new information daily during the congress.    
Wi-Fi
Free internet service is available at the congress venue, Kyoto International Conference Center.
Exhibition
Opening hours:
| | |
| --- | --- |
| September 25 | 8:00am- 4:00pm |
| September 26 | 9:00am- 5:00pm |
| September 27 | 9:00am- 3:30pm |
Venue: Annex Hall, Kyoto International Conference Center, Kyoto
Special Gift of a Two-Day Pass of Kyoto City Subway and Bus
An exhibition passport is in your Congress bag. Participants who have visited exhibitor booths and have collected 10 stamps or more from the exhibitors on the passport can get a 2-day pass of Kyoto City subway and bus in exchange for the stamped passport.
This special gift service is only for the first-come 500 people and they will get the gift at 'Exibit Passport Exchange Desk' located in the lobby of the main building in Kyoto International Conference Center.
Poster Sessions
Poster sessions take place in Annex Hall.
Speakers who ordered local poster printing services are supposed to pick up your posters at the Poster information desk in this hall.
Photographing and recordings
Photographing and recordings without advance permission are prohibited at oral and poster presentation venue.
The secretariat takes photos during the congress and will put the highlights on the Congress webpage after the congress.
Cloakrooms
Cloakrooms are at the entrance, central lobby and in Room H.
Please check the open and close hours at the venue.
Smoking
Smoking is strictly prohibited inside the Conference Center and is only allowed at the designated space near the entrance of Annex Hall, outside of the buildings.
Currency Exchange
You can exchange Japanese yen from US dollar in the Kyoto International Conference Center. Please exchange money with other currencies by bank. Banks are open only on weekdays.
For Japanese participants