During the 15th International Congress of Therapeutic Drug Monitoring & Clinical Toxicology (IATDMCT 2017, Kyoto), there are many opportunities for Young Scientists (YS) to participate in the congress activities. We look forward to seeing you all in Kyoto!
Markus R Meyer
YS Chair

Reinier van Hest
YS Vice Chair
Best Young Scientist Oral Presentation and Best Young Scientist Poster Presentation
Two prizes for Young Scientists are awarded at the IATDMCT meetings, one for the best oral presentation and one for the best poster, as follows:
The two winners will be awarded the sum of $750 each.
These prizes are reserved, according to the regulations of the Young Scientists Committee, to IATDMCT members aged 40 years or younger.
The jury will be made up of the chairs and at least 2 other members of the Young Scientists committee.
The awards will be presented by the Young Scientist Chair and Vice Chair at the Closing Ceremony of each meeting.
Furthermore, the Young Scientist Committee (YSC) of the local organizing society (Japanese Society of Therapeutic Drug Monitoring, JSTDM) and the YSC of the IATDMCT will cooperatively organize a number of YS events during the IATDMCT Congress 2017, Kyoto, which are summarized below.
Brief schedule of YS events
Date
Time slot
Venue
Events
attendee
Sept. 25th (Mon)
15:00~17:00
Room D
IATDMCT-JSTDM YS Joint Symposium 2017
All participants
Sept. 25th (Mon)
19:30~
NINJA KYOTO
YS night out

*

Mainly YS
Sept. 26th (Tue)
12:00~13:00
Room Swan
YS lunch
YS only
Sept. 26th (Tue)
15:00~17:00
Main Hall
Young Scientist Symposium
All participants
*: Pre-registration is required. A small participation fee of 3,000 JPY per person is required.
IATDMCT-JSTDM YS Joint Symposium 2017 (Sept. 25th, 15:00~17:00, Room D)
Overview
The IATDMCT-JSTDM YS Joint Symposium 2017 is a jointed symposium of the YS of IATDMCT and JSTDM. The talks cover a wide range of topics including both TDM and CT, therefore attendees will experience new aspects and ideas beyond their usual areas of research and expertise.
Program
[S-5-1]

PK and TDM of monoclonal antibodies for inflammatory bowel diseases.
Sophie Berends (Academic Medical Center Amsterdam, the Netherlands)
[S-5-2]

Ultra-sensitive quantification of drugs and endogenous substances in human plasma using UPLC-MS/MS.
Yosuke Suzuki (Oita University Hospital, Japan)
[S-5-3]

Mechanism-based analysis of toxicity of tyrosine kinase inhibitors.
Kazuhiro Yamamoto (Kobe University Hospital, Japan)
[S-5-4]

Therapeutic Drug Monitoring of Antiretrovirals: Applications in Management and Prevention.
Mark Marzinke (Johns Hopkins University School of Medicine, USA)
Young Scientist Symposium (Sept. 26th, 15:00~17:00, Main Hall)
Overview
The symposium is planned by YSC members of IATDMCT. Four YS speakers from around the world, who are carrying out cutting-edge research in the field of CT & TDM, talk their latest achievement. To attend the Young Scientist Symposium, YS would increase their motivation for research.
Program
[S-9-1]

Model based dosage optimization for pediatric patients.
Tomoyuki Mizuno (Cincinnati Children's Hospital Medical Center, USA)
[S-9-2]

TDM improves the efficacy of cyclosporine A in aplastic anemia patients.
Wangjun Qin (China-Japan Friendship Hospital, China)
[S-9-3]

Pharmacogenomics in Clinical Practice.
Daiki Hira (Ritsumeikan University, Japan)
[S-9-4]

Re-establishment of target concentrations of immunosuppressive drugs using PKPD modeling.
Brenda de Winter (Erasmus Medical Center, the Netherlands)
YS lunch (Sept. 26th, 12:00~13:00, Room Swan)
On Sept. 26th (12:00~13:00), we keep the Room Swan for the YS lunch to encourage the communication among YS participants. The delicious lunch box will be served to all attendees, but you may get lost in meeting young colleagues from around the world. Why don't we have an enjoyable lunchtime with our friends?
YS night out (Sept. 25th, 19:30~, NINJA KYOTO)
The YS night out is an unofficial YS event, but it starts to become a tradition during IATDMCT Congress.,The purpose is for YS to get to know each other in an early stage of the Congress in a relaxed atmosphere, especially for those who are first-timers. YS participants move to the downtown and enjoy a party. The first YS night out was held during the last congress in Rotterdam. This time, we arranged the second YS night out in IATDMCT 2017 Kyoto on Sept. 25th evening (19:30~). The venue for the night out is "NINJYA KYOTO (http://www.ninja-kyoto.co.jp/)," a restaurant imitating the house of Ninja (Japanese professional spy). We prepared the buffet food and unlimited drinks for the YS night out, and if we are lucky, we can enjoy the NINJA performance. Let's have an enjoyable and exiting night with your friends from all over the world!
Notice:
Date : Sep 25, 2017
Time :19:30-21:30
Location: NINJA KYOTO
583-2 Nakanocho, Nakagyo-ku, Kyoto 604-8042
TEL: +81-75-253-0151
Web: http://ninja-kyoto.co.jp/
Map from Kyoto International Conference Center: https://goo.gl/maps/DdQjmKTuem42
Participation fee: 3000 yen
Fixed number: 80 seats
How to join in the YS Night Out:
Tickets for the YS Night Out can be purchased through the Online Registration Form and the payment should be completed before September 18.
Please note that once you order and pay for the tickets, no refund will be made.

*Onsite registration is possible. However, registration will be closed when reaches the capacity (80 people).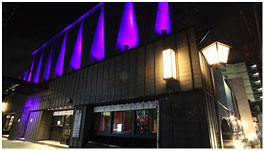 The "KYOTO, NINJA", the venue of YS night out